Dr Seuss' Green Eggs and Ham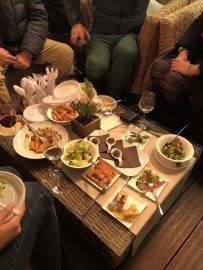 By SIMON BRADY + LAUREN BUSARDO
Aperiti-what? Aperiti-who? Aperitivo! An Italian cocktail hour where for a couple of hours people can relax and for a few euros buy drinks and get a bonus of either a plate of snacks served to their table or access to a small buffet of food. This occurs at FUA's restaurant Ganzo every Wednesday from 6-9pm where students serve, cook, and more. Table 21 is a table in Ganzo where FUA's president frequently visits and the students serve the table delicious food. These students who work at the restaurant are in a course called Garde Manger, a French phrase that means "Guardian of Food". It represents those that are in charge of preserving the food they make: meat, vegetables, flowers, ham, and more. Their instructor is Chef Massimo Bocus who gives the
students culinary assignments each week.
Every Wednesday at Ganzo is different in terms of theme and what is served. This is also true in terms of the student workers, there's always three students in charge, three who take care of preparation, and three who take care of preparation outside of the kitchen.
There is also one plate of food prepared that has a link to media; this week was Dr. Seuss's book, Green Eggs and Ham. One of the head chefs decided how to present the food to reflect this theme as you can see in the picture below. As Livia says "Ganzo's food is always fresh and they change the food depending on the season. Their bartender is also a champion of mixology and has won prizes". Table 21 and the whole atmosphere on Wednesdays at Ganzo is one we recommend experiencing!
Photos by SIMON BRADY + LAUREN BUSARDO