Enoteca Alessi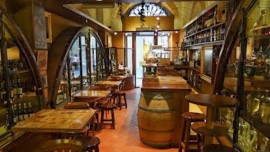 Review by Tanner Abel
We went to the enoteca Alessi. The word enoteca is derived from the Greek word for wine repository. The word is utilized for describing a local or regional wine shop that began in Italy. An enoteca usually is for giving visitors or tourists the possibility to taste wines at a reasonable price and perhaps take home larger bottles. The setup of the venue was pretty awesome. It had more of a store setup by the exit where you could get groceries and many types of food. The best part about Alessi was seeing the wine encased in glass throughout the dining area and the rest of the enoteca. It looked very high-end and pretty appealing. They had a huge downstairs area that we walked through that held nothing but amazing looking wine. It made us want to buy a bottle and if we had the proper amount of cash on us, we probably would have. It gave me something to shoot for if I ever become rich and have the ability to have a wine cellar like that.
There were about five tables and it was very relaxing. The music helped that feeling too; it was upbeat, but not too loud where it was overbearing and it fit the laid back type of mood of the venue. It just seems like a good place to hang out with someone when you are trying to unwind and relax a bit after work. The servers were very nice and spoke some English, which always amazes me that they take the time to do that for the language.
The menu consisted of a wine list and some light appetizers. Wines ranged from around 5 euros a glass to 13 for the upper echelon wines. There were many good wines for the 5 euro price though which seemed fair. If you were to get a glass of wine and an appetizer, it would average around 18 to 22 euros. Everything definitely looks freshly made in the food section with meats and cheeses hanging in the front cooler.The wine was delicious.
The price for wine was fair and the price for food may have been a little expensive, but not horrible. For service, I like servers that are not always on top of you and looking over your shoulder, so for me, it was good. It took us a while to get the check as the server left us unsupervised for a while, but I think that might be an Italian culture type thing because they don't want you to feel rushed. We paid 14,14 for the wine. Alessi was a positive experience. I think I will probably be going back very soon because of the location near the Duomo and how nice of an environment it was.
Enoteca Alessi
Via delle Oche 27 red
Tel. 055 214966
Hours: Wine shop open daily from 9:00am to 7:30pm. Wine bar open daily from 11:30am to 7:00pm.