Il Vegetariano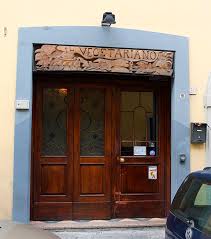 Review by Courtney Honigsberg
After staying in Florence for a little over a month, my cravings for delicious restaurant quality vegetarian food had ensued. A group of friends and I planned to make the walk over to a highly recommended vegetarian restaurant called "Il Vegetariano". In order to understand what all of the talk was about, I attempted to prepare myself with research dedicated to this eatery's menu and purpose. As I learned that this restaurant is dedicated to a use of fresh ingredients, it was made known that Il Vegetariano's menu changes daily to respond to what appeared the freshest. With this knowledge, a group and I blindly entered their building.
After stepping through the doors, we looked right and left to see a very small space that was loaded to the brim with both tables and chairs. After the initial shock of this tiny space, we found a ramp that led to alternative seating and both the cash register and food counter. On this particular day, the restaurant was completely full, and before analyzing my surroundings, it was vital to order food and avoid the crowd. At first glance of the menu, I was incredibly curious as to what each Italian word meant, but also pleased to know I could eat each offered entrée. With the overwhelming amount of selections, a friend and I decided to order two meals and split with one another. After ordering two "mystery" meals with key recognizable words, we put in our order and were handed the food within 2 minutes. This quick service not only made getting through the crowd efficient but also helped with our grumbling stomachs. Once we has finally sat down, in a very cramped corner of the restaurant, I was able to gather my thoughts and notice my surroundings.
While gazing upon the interior design and overall ambiance, I mentally noted the way that this small building seemed to bring people together, with its family oriented demeanor. Painted with Tuscan influenced colors and equipped with richly glazed furniture, this restaurant felt very authentic and charming. These aesthetic notes were then followed by my first bite of Rice with Pesto Sauce, which gave me an immediately positive reaction. This rice dish was incredibly palatable due to the pesto, which had a rich flavor of high quality olive oil and basil. Although I was content with this dish, our second order caught my attention for its color, aroma and positive feedback from my friend. After making it halfway through the rice, I then began exploring the second dish or collard greens, chickpeas, quinoa and mushrooms. This plate that incorporated flavors of oregano, garlic and was perfectly garnished with both salt and pepper to provide a simplistic yet decadent combination of flavors. Although both dishes were delicious and filling, as this business claimed to have incredible desserts on their website, it was imperative that we put this to the test. After ordering and receiving a gluten free cobbler, and vegan chocolate cake we were pleasantly surprised that their advertisement was true. Each of these desserts has very subtle indications of agave nectar and was the perfect end to a great meal.
In its totality, Il Vegetariano can be classified as an experience well worth the initial chaos. As this restaurant is incredibly popular, I plan to make visits during odd hours to avoid the crowd but still receive a delicious meal. With their use of fresh ingredients and mindfulness to what the earth is seasonally providing, Il Vegetariano truly lives up to their "from the root up" mentality.
Il Vegetariano
Via delle Ruote 30 red
Tel. 055 475030
Hours: Tuesday-Friday open for lunch from 12:30-3:30pm (kitchen closes at 2:30pm) and dinner from 7:30pm-midnight (kitchen closes at 10:30pm); Saturday-Sunday open for dinner only from 7:30pm-midnight (kitchen closes at 10:30pm)
Closed on Mondays