First Trial Dinner at Ganzo: Autumn in the 60's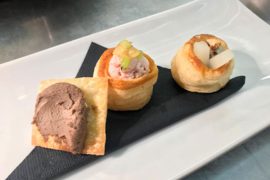 By Eva Bjorg Eyjolfsdottir and Delaney Goff
Photo by authors
The theme of Friday night's Ganzo menu was "La Dolce Vita" which is this year's theme at Tutto Toscana. The 1960's were characterized by novelty and experimentation within the food industry. Although experimentation was incorporated into new dishes, traditional dishes still thrived.
The menu is inspired by the seasonal flavors of Autumn. In the various courses, you might find hidden chestnuts or sweet grapes to compliment the current Fall season. It is composed of courses that will be featured in New York City at the James Beard Foundation for Tutto Toscana 2018.
The welcoming meal was composed of two different Vol-au-vent. The first was filled with whipped blue cheese, pear, ginger and walnut, and the latter with mortadella mousse and a kiwi grape salad. There was also a crunchy flatbread with chicken liver pate.
The appetizer was a poached egg with Nicoise salad followed by a first course of chickpea and chestnut soup with seafood ragout and raw broccoli. The main course was pan fried salted cod with grapes, served with beetroot. Finally, dessert was inspired by very popular desserts in Italy in the 70's, such as Fiesta and Girella.
The pairing of the ingredients in the first course complimented each other beautifully, and the clients were pleasantly surprised.
According to the culinary students, the main dish was the most challenging. The difficulty came in balancing the salted cod with the sweetness of the grapes.
Follow our journey from Florence to NYC on Facebook.