Odysseia Ristorante Greco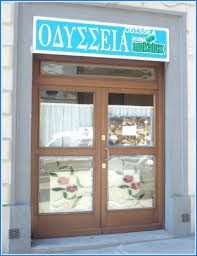 Review by Daniela Roberto, Allyson Quinn, Juliana Runnels, Jordan Semel, Alex Rohmann
Odysseia is outside of the city center, but easy to reach, and we had an excellent experience. Upon entering, the cosy atmosphere and white and blue decor made it feel very authentic, as if on the island of Mykonos. The staff greeted us with smiles and proceeded to help us throughout the meal—giving us English translations of the menu and offering their own suggestions. For an appetizer, we tried the "Polpette di Ceci," or fried chickpea balls with tomatoes, onion, salt, pepper, and cheese, as well as the Manuri, a grilled ricotta cheese, and feta al cartoccio, a round chunk of feta with spices and a slice of sautéed bell pepper and tomato on top, served with slices of whole wheat pita bread on the side. Our server suggested we add a picante olive oil on top to season the dish. Everything was extremely delicious and left an appetite for the main course. Next, I had the "Pita Ghiro," or a sandwich with pita bread, pork meat, tzatziki, pepper, lettuce, french fries, and tomatoes. I really enjoyed the sandwich—especially the tzatziki sauce which was extremely flavorful yet light and not overpowering. We also tried a wonderful main course called pollo al forno, a quarter whole chicken (leg and thigh) baked in the oven with roasted vegetables. The vegetables included eggplant, red and yellow bell peppers, tomatoes, mushrooms, and spinach. We also tried the frittura mista, which is fried shrimp and octopus. This was also very well cooked and something unique.
Our waitress was wonderful, and even called us a taxi when we were ready to go home. The staff here looked as if a close family, and they treated each of their customers like that as well. The service was top-notch. This establishment also gave us a better understanding of authentic Greek cuisine and different ways to eat a Mediterranean diet. There were many options on the menu, all of which sounded delicious. Overall, we would recommend the restaurant to someone who was looking to an alternative from typical Italian food or who is looking for a true, Greek meal.
Odysseia Ristorante Greco
Via Circondaria, 43
Tel. 055 4633259
Hours: Monday-Sunday: Lunch 11:00am-3:00pm; Dinner 6:00pm-midnight