Osteria Santo Spirito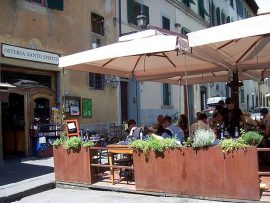 Review by Maggie Salandra, Kaley Rudicus, Maggie Fair, Julia McMenamy
As a group, we think Osteria Santo Spirito is a very beautiful, cozy place. It is an Osteria, so it sells mainly food, with a selection of wines to accompany the dishes. The food is served at shared tables in an informal setting. You can sit inside or outside, and in colder months, they have blankets and heat lamps if you still would like an outdoor table. The atmosphere of the restaurant was very comfortable and relaxed. The upstairs dining area has large round table that was decorated beautifully. The room was very authentic, dim, and cozy, a great space for conversation and making memories. Reservations are recommended especially between 8-9:30 at night.
The menu is a good size and even has selections of specials to choose from. For a starter, we tried the classic bruschetta. The tomatoes were fresh and the bread was perfectly toasted with olive oil drizzled on top. We also tried one of the specials: spaghetti with melted cheese and pepper. The pasta was al dente and the pepper added a ton of flavor. The Osteria is known for their gnocchi with truffle sauce. The truffle flavor is not too strong. The presentation was very traditional and the dish was some of the best gnocchi ever had, with the perfect amount of truffle.We also had risotto and zucchini and it was one of our favorites. Even the simple pasta with red sauce and cherry tomatoes was very fresh and appetizing. We also ordered a second course of mixed grilled meat, which included Sirloin steak,  chicken, and some rabbit, a bottle of Terre di Bracciatica Rosso Toscano. This is the first time I have ever tried wild game in Italy. The flavor of it is amazing! At the end of the meal, we ordered the infamous Tiramisu. It was one of the best in Florence!
Overall, our group had an incredible experience at Osteria Santo Spirito. Many of us heard about the Osteria prior to this assignment, from students who previously studied abroad in Florence and our new friends we made here. The reviews online and the demand to visit the restaurant shows how authentic and incredible it really is. The informal setting made it a great place to socialize with friends while also enjoying true Tuscan food!The portions were really big as well. Overall, the restaurant felt authentic and we were pleased with our experience there. We would definitely visit this restaurant again soon.
Osteria Santo Spirito
Address: Piazza Santo Spirito, 16/R
Tel.: 055 238 2383
Hours: Monday-Saturday 6:30pm-11:30pm; Sundays 12:00pm-11:30pm