Pizzeria Antica Porta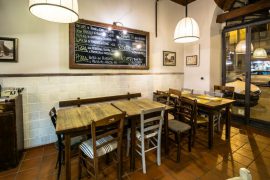 Review by Mallory Royer, Jack Cmaylo, Giulietta Brunetti, Carly Semack, Lena Ceccone
We visited the establishment as a group on a Sunday night right at 7:00pm opening time. We were the first people in the restaurant and we were seated right away. There were about 20 tables in the entire establishment and less than 10 people working on staff. We were greeted by a waitress who asked us if we wanted water to start. Then we ordered an appetizer, a suggested pizza special, and a dessert to share.
We started with a salami and pecorino cheese appetizer. It was served alongside toasted slices of bread. There were two different types of pecorino served, one with herbs and one without and it all paired very well together. To follow the appetizer, we received a burrata and basil pizza, listed under the "recommended selections by staff." It was a thin crust pizza that had large portions of creamy burrata cheese and fresh leaves of basil. The pizza was slightly cold when it was served to us, but the flavors were all prevalent and mixed together very nicely. Finally, we ended with a tiramisu. It was much more custard-like than other tiramisus we have tried in Italy thus far. It was much heavier and did not have the strong flavor of coffee present. However, it was still satisfying! We agreed that our favorite dish was the pizza. Even though it was not piping hot when it was served, we felt it was extremely fresh and flavorful.
By the time we got the check, the restaurant was filling up fast. The clientele was mostly Italians and not tourists. Overall, we decided that we would return to this establishment. We would also like to try some of their other dishes offered, like pici with ragu or one of their meat specials. Many of us felt that this was one of the more authentic pizzerias we have visited throughout our time in Florence. We all agreed that if we were craving classic Italian dishes, specifically pizzas, we would recommend this place to others.
Pizzeria Antica Porta
Via Senese, 23, 50124 Firenze FI
Tel.: 055 220527
Hours: Daily 7:00pm-midnight