Targato FI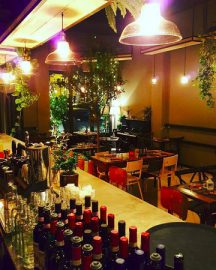 Review by Ciera Davis, Seth Bruce, Kylie Leberman, Kyle Adams
Targato Fi is a smaller Mediterranean Bistro with an intimate setting. The venue was very well decorated with plants, decorations, dim lighting, and a very cozy Italian feel. The atmosphere of the restaurant had a very relaxed feel, with a medium number of seats and a small bar.
The table seating sat about 37 guest, while the bar sat 9. The restaurant was easy to reach, in a very nice area, and also definitely a location frequented by locals, as our group noticed on various visits that we were the only ones in the establishment who were not Italian. There was a vast variety of clientele at this restaurant, such as families, business meetings taking place, and even clientele on romantic dates. Reservations were not required, but recommended for late night dinner rushes.
The waiters and waitresses at this establishment were Italian, but were able to speak English to us when stating we were Americans. They sat us immediately and were friendly and extremely accommodating in both helping translate the menu, recommending dishes, and accommodating dietary needs. As stated by multiple group members, this is the best service many of us have seen since our arrival in Florence! One of our group members was even offered a coupon for a future visit! I feel that this is key when in this particular industry, gaining feedback and developing small relationships with the guest is beneficial for a business.
The menu, which was completely in Italian, had a good variety for both lunchtime and dinner meals. Almost immediately after being sat, water was brought to the table as well as a basket of bread. The waitress translated every dish and even recommend some personal favorites, as well as a wine to pair it with. Members from our group visited at  both lunch and dinner time. The lunch menu is rather short, but we were told this often changes daily. The menu offered options to pair one course with another for an extremely good deal. The average cost of a meal during lunch time, including a glass of wine, is close to 14 euro. The dinner menu was diverse, but didn't have as many options as expected. The courses included many types of seafood and meat, but also had dishes to accommodate vegetarians. Our waitress informed us that all of the meat and seafood is produced locally in the Tuscany region, so there was no doubt that it was fresh. The menu consisted of appetizers, salads, soups, first courses, second courses, and desserts, all of which were very diverse. The dishes presented were very large in size, especially for the low price paid! Presentation and flavors were both beautiful, but multiple group members mentioned the texture of different pastas and meat not being to the liking of their palette. Overall though, the flavors were all there and the ingredients in the dishes were balanced beautifully. Their choices of wine were surprisingly narrow but selection that is offered in many different sizes. Multiple members of our group chose a Chianti wine, which was excellent paired with the meal they had ordered. The average cost of a full meal, including wine, during dinner time can range from 20-30 euros depending on the courses selected. A good deal for the portions and delicious food you receive!
Our group agreed that this restaurant was an overall incredible experience. From the cozy feel of the establishment, to the incredible staff and meals we were served; this place is somewhere we all agreed to visit again!
Targato FI
Viale Ariosto 11/red
Tel.: 055 936 7689
Hours: Monday through Saturday lunch 12:00pm – 2:30pm; dinner 6:00pm – 1:00am. Closed Sundays