Traditional Tuscan Pasta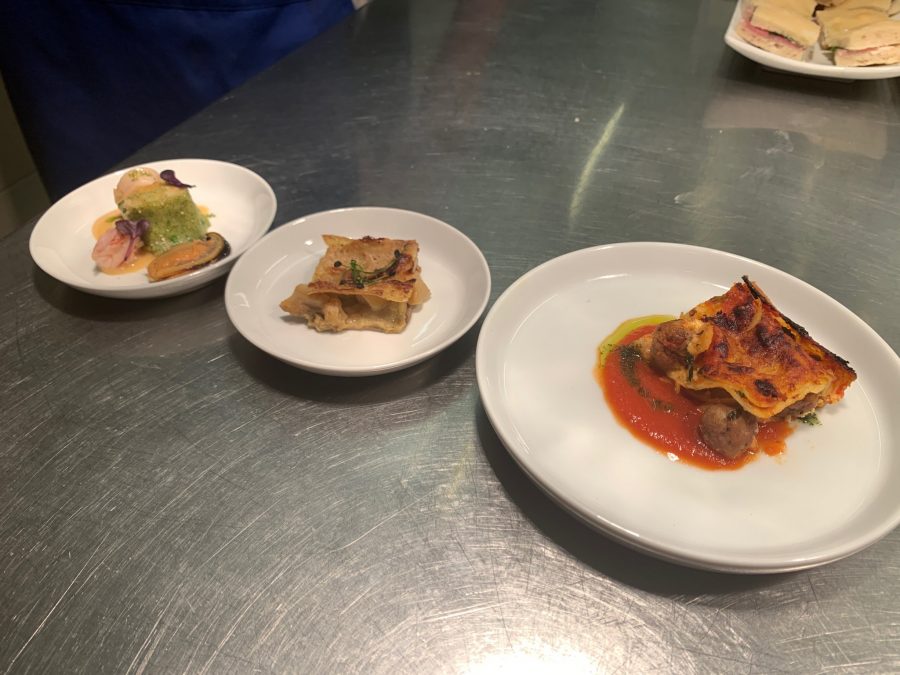 Sarah Mirisola and Adanna Padda

This week's theme at Ganzo's Wednesday aperitivo was traditional Tuscan pasta bake dishes. There were three different kinds of pasta dishes being served to Table 21 and each one represented a different element of Tuscan cuisine: such as seafood, meat, cheese, and vegetables. There were many familiar faces at Table 21 this week. It was full of FUA-AUF staff. The professors were very welcoming and talkative, with many of the students spending their evening out at Ganzo. The first Tuscan pasta bake dish we were presented with was meatball and bolognaise sauce served with ginger, garlic, and herbs. The pasta was layered: the first layer was feta cheese with broccoli sauce and below that layer were the meatballs with herbs. The pasta was made the day before and it took hours to make, according to the chef. The pasta was then baked and presented to Table 21. The next dish that we tasted was the mushroom-flavored pasta. It had a creamy sauce and two layers of mushrooms and cheese. The chef told us they had to prepare the pasta for this dish in a very interesting way: they rolled out the pasta dough with mushroom powder, which gave the pasta more of a flavor. This dough also was made the day before and also took hours to make. The final dish was the seafood-based pasta bake. This pasta was rolled out with cabbage powder which gave it its green color. The three seafood items within this dish were shrimps, calamari, and mussels. The pasta was served with a red sauce and it had a potato, red pepper, and herb filling. This particular aperitivo was very crowded. Many of the students seemed very relaxed and took their time enjoying the aperitivo, hanging out with all the friends they made since arriving in Florence. Ganzo's aperitivo is a great place to go for a friendly and relaxing atmosphere, along with wonderful food!