Risotto with sunchoke and thyme, aged pecorino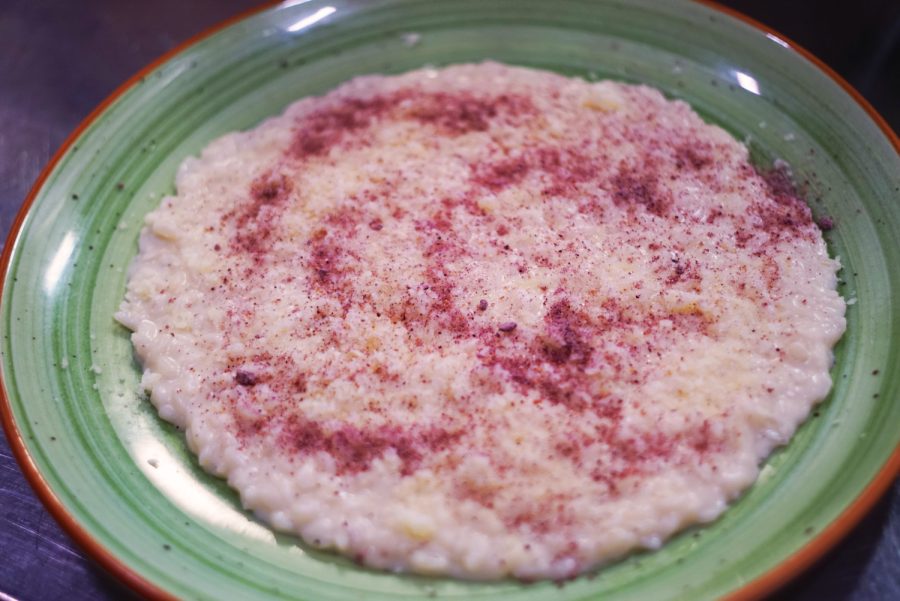 Sunchoke, also known as Jerusalem artichoke or topinambur, is probably one of the most prized vegetables that can be harvested during the winter months. Originally found in North America, with its sweet and delicate flavor it quickly became popular all over Europe where it is still cultivated to this day. This recipe utilizes a risotto, pairing it with the stronger flavor of the pecorino, creating a sweet and savory experience for a winter dinner with friends.
Serves 4 
Ingredients:
350g carnaroli rice
3 shallots
1 glass white wine
250g aged pecorino finely grated
50g butter
300g sunchokes
1 onion
5 sprigs of thyme
1 glass of milk
1 l vegetable stock
Method:
The first step is making the sunchoke pure: Start by peeling the sunchokes and dice them into small pieces and set them aside, following chop the onion finely. In a large pan heat the olive oil and add the chopped onion, when they're translucent add the sunchokes and the leaves of the thyme, let cook till everything is slightly caramelized, cover with water and the glass of milk, boil until the liquid is reduced by half. Leave it to cool for 10 minutes then afterwards blend and strain.
For the risotto, chop the shallots and cook them in a large pan with a tablespoon of olive oil, add the rice and let it toast for a couple of minutes. Afterwards add the white wine and let it evaporate, when dry add a ladle of vegetable stock, keep adding stock little by little every time the rice dries out. When the rice arrives at half cooking time, add the sun choke pure and let cook till done.
The last step is the mantecatura, cut the heat and add the butter and pecorino and mix altogether until you get a creamy consistency. Let rest for 2 minutes and serve with a generous sprinkle grated pecorino on top.