Trattoria La Casalinga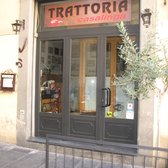 By Marion Gardella, Gabrielle Hartman, Devan Hampton, Lauren Hatteberg, Alexa Holcombe
Our group met at Trattoria Casalinga on a Tuesday night at 7:00pm. We made a reservation earlier that day because we were advised that it would be needed to eat dinner at this particular establishment. Once we arrived, we were surprised to see how many customers were waiting outside the doors for the restaurant to open. The trattoria opened at 7:00 sharp, with the customers, including the five of us, immediately able to enter. We were shown to our table in the front room and we sat down. A waiter came over to us with bread, offered us water, and gave us a few minutes to look over the menu before ordering. The service was very fast and we received our dishes in minutes of ordering.
Although the menu at Trattoria Casalinga is written only in Italian, it has many options to choose from. The menu includes Antipasti, Primi Piatti, Piatti del Giorno, Secondi Piatti, Contorni, Insalate e Formaggi, Dolci, and Frutta. One of the dishes we ordered was spaghetti al pesto. The pesto was very fresh, full of flavor and vibrant in color. The spaghetti was cooked to perfection making the meal delicious and filling. The wine list was also extensive but not overwhelming and with reasonable prices. The option of the Piatti del Giorno is one to take advantage of because they focus on traditional Tuscan dishes with seasonally fresh ingredients.
The ambience was welcoming due to the staff's warm and attentive presence at the front door and with the high dome ceiling, it unveiled a very open atmosphere. The seating and arrangement of the tables were comfortable with respect to personal space. With about only 40 chairs in the entire restaurant, it's no wonder why reservations are necessary. The decor of pictures on the wall, both abstract paintings and photos of people in significant relation to the restaurant gave off a wistful glamour. The top half of the walls were painted white and the lower half of the walls consisted of wooden panels which manifest a warm, fuzzy and home-like feeling.
Trattoria La Casalinga
Via dei Michelozzi 9/R
Tel.: 055 218624
Hours: Monday-Saturday lunch 12:00-2:30; dinner 7:00-10:00. Closed Sundays