TuttoToscana 2018 features My Dolce Vita by Andrea Mancini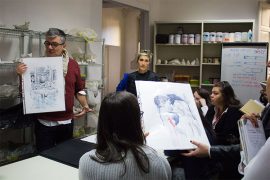 By Isabella Orana and Ruby Rappaport
Arts and Places: From Renaissance Florence to the Contemporary Metropolis students give us a taste of TuttoToscana's featured artist in New York City and the concept of the work exhibited. 
Andrea Mancini is the featured artist for the TuttoToscana art exhibition that will be hosted by Katie Rosenberg in New York City on October 24. The theme of the event is the 1960 Italian film La Dolce Vita, which means "the sweet life" in Italian. This portrays the lifestyle everyone looked forward to back in the 60s. La Dolce Vita was filmed by Federico Fellini at a very conservative time in Italy and it exposed a lifestyle that frayed away from this. Women, specifically the main character Silvia, were represented as rebellious and on a quest for love and happiness. That was precisely an open door for women to start living the way they desired. It was more or less a green light for them to go out and pursue their dreams. The artist perfectly transferred the previously mentioned into his paintings. They also display the boom that occurred during this time of new clothes and cars, with fancy and sensual design.
My Dolce Vita will expose the attendees to the collection of 15 watercolors of different sizes by the Florentine artist, set on display in selected spots where Andrea Mancini will also perform a large format live painting.
The event will be intimate but glamorous, following the traditions of house gallery and art events in NYC in the 60s and 70s. The venue creates a comfortable atmosphere for art lovers to enjoy the pieces created. The attendees will be further delighted by the aperitivo with an exquisite rich menu inspired by Italian food of the 60s and elaborated by FUA culinary students in the TuttoToscana program. There is no doubt that the event will be a complete success. An opportunity not to be missed to taste Italian treats, and possibly to take home one of the iconic image captured by Andrea Mancini. Katie Rosenberg is ready to greet guests at her house. Most importantly, TuttoToscana 2018 is ready to shine.
Follow our journey from Florence to NYC on Facebook.