Second Friday Trial at Ganzo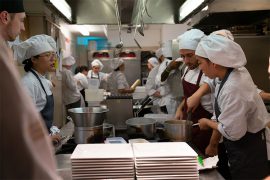 By Special Event Management Class
In preparation for the TuttoToscana event week in NYC, FUA students hosted a successful second practice dinner at Ganzo for Florentine guests.
The menu of the evening was composed of courses that can be found in both the Alumni dinner and Art Event menu, served at TuttoToscana 2018. The Amuse-bouche was composed of three different miniature crostini. The first was an American-style breakfast crostini, another with tuna and horseradish mayonnaise, and the last one with artichoke butter and cauliflower.
The appetizer of the evening was a twist on "This Big Apple Sandwich." This delightful sandwich came with a house-made rye and coffee bun, pumpkin, apples, gorgonzola DOP, yogurt, citrus, and hazelnut.
The first course was a homemade pumpkin and potato gnocchi dish, served with Tuscan black cabbage pesto.
The main course of the night was rustic style meatballs, deep fried, and served with tomato sauce. This was accompanied by an assortment of sweet and sour vegetables.
The dessert served was a festival cake. This dessert was made with cocoa meringue, zabaglione chantilly and chocolate decorations on top.
Following the dessert came the Piccola Pasticceria, a mini-torta della nonna. This was a puffed rice pastry accompanied white chocolate.
The guests of the night enjoyed the first course the most! The pairing of pumpkin with potato gnocchi left them with a satisfying taste for the rest of the evening.
Follow our journey from Florence to NYC on Facebook.