A GATHERING AT GANZO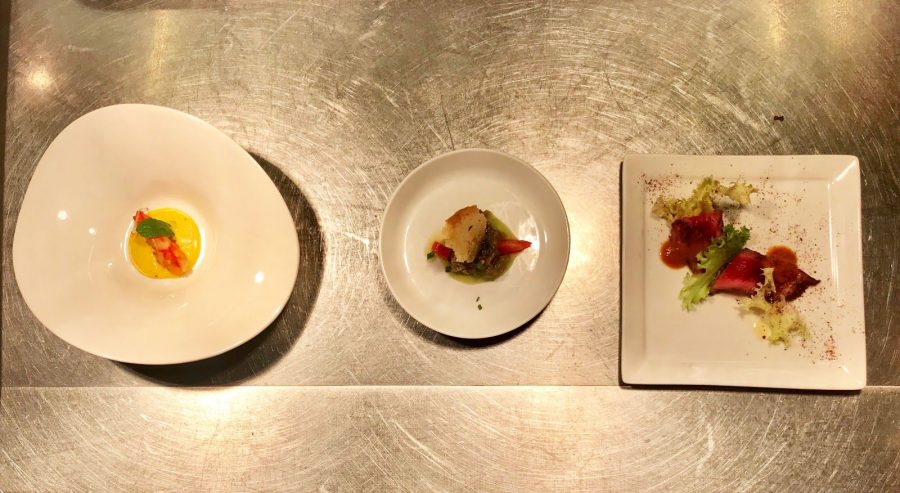 By Eden Brock and Lauren Strand
This week at the Ganzo aperitivo, we took part in the theme, "Grill, Smoke, Burn, Roast," which had to do with various types of foods cooked in these manners. The dishes were prepared by Lilian Haung, a third-year FUA culinary student with a keen insight into the art of the aperitivo. She prepared three dishes for us, all pertaining to the theme of the week.
For the first dish, we enjoyed roasted shrimp with yellow curry and mango yogurt. This dish was light and refreshing, yet the juxtaposition with the roasted flavor added an exciting twist to it. Paired with a refreshing summertime cocktail, this was the perfect way to start off our aperitivo experience.
The next dish was a beautiful eggplant puree with a fresh cherry tomato, chives, and topped with a crisp bread chip. The inspiration behind this dish was to add a fresh ingredient to the mix, and smoke the eggplant to add another contrasting flavor to the mix. The eggplant had a very smoky taste to it, which was an excellent way to expand our palate before continuing on to the next dish. It was the perfect bite to continue on our amazing aperitivo experience, surrounded by friends and a fun, inviting atmosphere.
For the third dish, we finished with a tender beef loin, paired with a spicy and sweet sauce, onion, and a rich roasting technique. The beef loin was accompanied so perfectly with the spicy and sweet sauce, which added a fun kick. The rich roasted flavor was a delightful finish to the aperitivo time, and had us very excited for the dinner to come.
Our time at Ganzo's aperitivo was one we will never forget. With delicious cocktails, beautifully-made food, and good company, we recommend to spend every aperitivo at Ganzo!