WHO'S READY TO PARTY?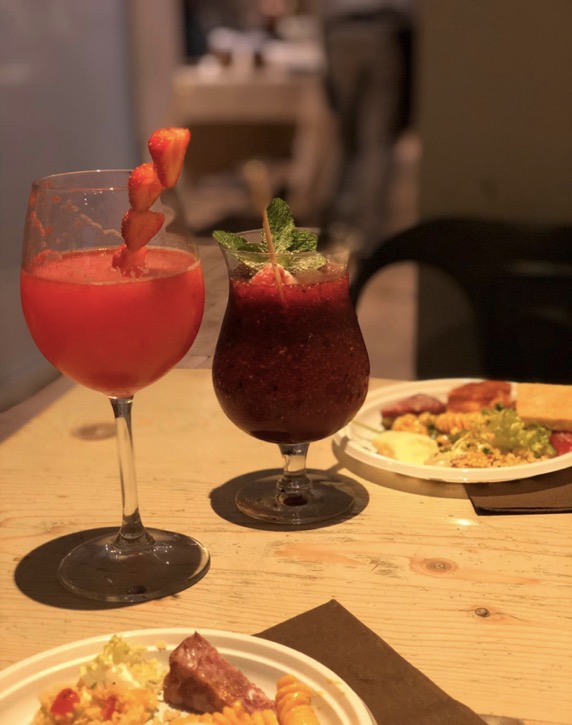 By Kameron Bowling and Samantha Simons 
We have been in Ganzo just a few times, but we have to say the Aperitivo Wednesday was exquisite. The theme of the night was "It's Party TIme" and they lived up to that title. The Atmosphere when you talked in was fun and joy filled. The Servers and bartenders were very kind and helpful. Everything was laid out perfectly – even the napkins were folded neatly on the table along with the plates stacked neatly in a pyramid like structure. The food was plated in such a way that it caught your eye when you walk past it and just wanted to take a picture and not even eat it because you did not want to mess it up. 
Of course, when we first walked in we used the drink ticket that they kindly give you with the 5 euro entrance fee – very nice. We both tried different drinks. 
Kameron: I tried the mixed berry. It had rum, mixed fruit and fruit juice in it. I thought it was very refreshing and tasty.
Samantha: I tried the Spitz. I have had a spritz before but this one was just the right.
There were a variety of drinks and they even had wine – if that is more up your ally. After we got our drinks and got a table – which is kind hard to do due to it being such a small restaurant so I would recommend getting there early to get a table if you plan to stay for a whole – we made our way over to the hors d'oeuvre table. There were a variety of things for all types of food palets. We both got a little of everything because we wanted to try some new things that we have never seen or tasted before. My favorite would have to be the salad I chose. 
Kameron: That day I was craving something fresh – and wow, it was! It was made up of lots of mixed greens, avocado sauce, apples, nuts, cucumber, carrots, and celery. It was refreshing as well!
Samantha: As soon as I walked in the first thing that caught my eye were the meatballs. Since I have been in Florence I have not had meatballs so I was very excited to try those and they were by far my favorite hors d'oeuvre of the night.
One of the main things we were impressed with was the hustle of the staff. Every 15 minutes they would being out a new dish, refill the empty ones, and even the dishes that were warm, they would replace about every 15 minutes as well to make sure they were warm for the guest. 
 Our favorite part of the whole night was being able to go back into the kitchen and talk to the chefs. We got a breakdown of some of the main dishes of the night for Table 21. There were a variety of dishes: meatballs, lamb, pasta, truffles etc. we also got to try each dish while he was explaining the ingredients and preparation. You could really tell how much time and energy went into making these dishes for the Table 21 guest. Our favorite were the Truffles filled with Spinach – the vegetarian dish. The chef explained that all of the food was meant to be eaten with your hands to correspond with the theme of the night.
Overall, this experience was one we will remember every time we prepare or eat a dish because we never knew how much time went into preparing and cooking the dishes we eat.