VEGETABLES SERVED AS AN APERITIVO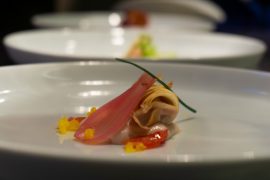 By Andrew Foss and Caitlyn Conetta
Our night at Ganzo's aperitivo entailed cocktails, a small bite to eat, and conversations with the culinary masterminds behind the specialty "aperitivo" prepared for Table 21. The theme of this week's "AperiGanzo" was vegetables – redefined. Each of the dishes prepared were contemporary interpretations of traditional salad and vegetable dishes. To spice up simpler vegetable recipes chefs mixed ingredients and flavors from various cultures and experimented with different cooking techniques. Each aperitivo had a unique twist, different from how the vegetables are traditionally presented.
The first dish of the night was Gazpacho, but with a twist, as it featured a combination of fruits and flavors. Primarily consisting of tomato juice, this sweet dish was taken a step further with the addition of watermelon juice, slices of freeze-dried cucumber, and strawberry jam. The chefs mixed in these fruits with the aim of creating a "sweet to sour experience". A great choice that made the gazpacho exceptionally refreshing.
Following the Gazpacho was the next small plate, Nicoise. This dish is typically known as a salad, which originated in Nice, France. Nicoise has been appreciated by many top chefs throughout decades for its great blend of ingredients. While this dish did feature common ingredients of a traditional Nicoise salad, it's appearance did not resemble one. The plate beautifully incorporated pickled onion, tuna, chopped quail egg yolk, filo dough, diced tomatoes, and chives. This creative spin on a classic recipe was both eye-catching and delicious.
Presented as a miniature taco, the kitchen also took on recreating caesar salad. Taking a bite of the taco one could taste chicken marinated in an asian soy sauce, fresh bits of lettuce, and a tasteful mayonnaise with egg yolk. Shaping the "caesar salad" as a taco was both intriguing and clever for a delightful bite size dish.
The final dish presented was an interpretation of Panzanella, a traditional Tuscan summer salad. Panzanella is typically made up of leftover bread pieces, tomato, basil and onion. Putting a spin on this simple recipe the chefs created a creamy sauce of bread and vegetables and added dehydrated tomatoes. Topping the dish with an airy basil sauce, the chef manages to "obtain the flavor of the basil in a different way". This dish was the chef's favorite, as well as ours!
The new concepts and flavors the chefs brought to traditional vegetable dishes made the bites of the night both intriguing and delicious. The chefs at Ganzo succeeded in making each bite an exquisite blend of surprising yet delectable vegetables and flavor.