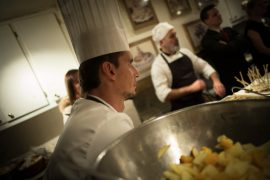 By Samantha Lucenti
With this year being FUA's 12th consecutive year being invited to the James Beard Foundation, the menu was decided to be a tribute to the Medici family. The Medici's dynasty dominated the Italian and European political scene from the 15th to 18th centuries. The Medici family contributed to the cultural and artistic innovations to Florence and also witnessed the birth of the Renaissance and significant scientific discoveries.
This menu created by our brigade has tied each course to a Palazzo or villa and the unique traits and flavors of the related territory. Each course is paired with a wine from the region and a different bread as well. The aperitivo is compiled of a Tuscan carabaccia soup, cinque e cinque with shrimp tartare, a coastal street food originated from Livorno, deep fried crespelle nests with Parmigiano Reggiano, white bean and pecorino frittata, and ricotta stuffed with smoked leeks and dehydrated prosciutto. And these are paired with Vermentino di Sardegna and Sauvignon Blanc from Macari vineyards.
The Antipasto is a tribute to our beloved Palazzo Pitti, located in the heart of Florence it was the granducal residence of the Medici and contains the beautiful Boboli Gardens. From this we are serving a "Boboli Garden" Renaissance-style salad with mixed field greens, pecorino, capers, anchovies, sultana raisins, walnuts, and olives with Pruneti extra virgin olive oil foam and citrus tomato drops. Azienda Agricola Pruneti is a Tuscan producer of the extra virgin olive oil used in this dish. And paired with Barco Reale di Carmignano D.O.C.
The Primo is a ricotta and black cabbage gnudi served on a light Corzano and Paterno pecorino, garlic, and sage sauce and is in tribute to Scarperia e San Piero, a fortress-like castle that was first to be commissioned by the Medici family. The pecorino pays homage to the Mugello area's pasture and cheesemaking traditions. The second Primo is a rustic borlotti bean, farro, and mushroom soup that is based off of Barberino di Mugello which is another medieval Medici villa located in the Mugello area. These primos are paired with Lastricato, Chianti Rufina Riserva D.O.C.G. from Castello del Trebbio.
The secondo is Anatra all'arancia which is in tribute to Artinimo, Carmignano where the Medici used their villa for their passion for hunting and game. This dish consists of a duck thigh, breast, foie gras, celeriac and chestnuts, honey and candied orange zest, dressed with drops of traditional balsamic vinegar of Modena DOP. This is paired with Villa di Capezzana, Carmignano D.O.C.G.
The Pre dolce is a honey rosemary mousse with pine nut crumbles in a lingue di gatto shell. Where the vin santo is also used in the cookies. This is fashioned towards the Camugliano villa that reflects the Medici western-bound expansion towards Pisa.
The main Dolce is a contemporary Spongata cake with orange candy and pine nuts, where the taste of it is identical to the classic version but the look and shape of it has a contemporary twist.  And this is paired with the Vin Santo del Chianti, D.O.C Castello del Trebbio.
To finish the night there are an array of cookies and petit fours such as ricciarelli, a seasonal cookie of Florence, biscotti di Prato, ovis mollis, the oldest cookies in Tuscany, and anicioni, an older biscotti with anise seeds instead of almonds.
Photo by David Weiss